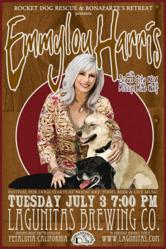 SAN FRANCISCO, CA (PRWEB) June 04, 2012
Emmylou Harris, American singer-songwriter and musician, has won twelve Grammy Awards and countless fans all over the globe. On July 3, shes going to win the hearts of a few good dogs.
Rocket Dog Rescue (RDR) Founder Pali Boucher grew up on the streets, but for the love of one good hound named Leadbelly, Pali turned her life around. Ever since then, Pali has been paying it forward by turning thousands of homeless dogs lives around. When Emmylou heard about Rocket Dog Rescue (RDR), she was inspired to lend her angelic voice to their cause.
Rocket Dog Rescues tagline states: Make a difference in a dogs life. Adopt. Foster. Give. Rock on. Emmylou Harris will rock on for RDR at the unique summertime event; and this wont be the first time shes lent a hand to those with paws. Her hit song Big Black Dog was written for a very special black lab mix named Bella who she rescued. Bella goes on the tour bus with me now, along with another of my rescues. I think of all the years on the road I wasted without a

dog. They make it so much more pleasant. Im making up for lost time now. (http://www.emmylouharris.com). Emmylous own dog rescue, Bonapartes Retreat, is partnering with RDR to bring this special event to the bay area.
The Festival for Dogs kicks off at 12 p.m. on the scenic grounds of the iconoclastic Lagunitas Brewing Companys Tap Room and Beer Sanctuary. Throughout the day, attendees will enjoy music, arts & crafts booths, food, craft beers, a silent auction and an adoption event graced with some of the Bay Areas finest canines. Award winning singer/songwriter Misisipi Mike Wolf takes the stage at 12:30 p.m. with his unique country songs. Next up at 2:30 p.m. is the 7-piece band Sioux City Kid (http://www.facebook.com/SiouxCityKid) with their signature sound of catchy Americana rock songs. At 4 p.m. is a VIP dinner where generous contributors to this extraordinary day can mingle and dine on delicious victuals. At 7 p.m. the legendary recording artist herself, Emmylou Harris, hits the stage of the intimate venue.
WHAT: Festival for Dogs, starring legendary singer Emmylou Harris

WHEN: Tuesday, July 3 from 12 pm 9 pm

WHERE: Lagunitas Brewing Co. in Petaluma, CA

TICKETS: On sale now at http://www.lagunitas.com $ 150 VIP, $ 75 Regular. Sponsorship packages are available through Rocket Dog Rescue.
Rocket Dog Rescue, a non-profit 501 C3 organization, provides rescue and adoption to at-risk dogs across the California Shelter System. Since its inception in 2001, Rocket Dog Rescue has saved over 6,000 animals and been featured numerous times on TVs Animal Planet. For more information, please visit: http://www.rocketdogrescue.org.
Bonapartes Retreat is dedicated to providing nurturing foster care for shelter dogs when their allotted time at the shelter has elapsed. To prevent these wonderful animals from being euthanized and to find them permanent, loving homes, please visit: http://www.bonapartesretreat.org.
Lagunitas Brewing Company is an award-winning brewery, crafting beers brewed in an old world tradition using only water, hops, yeast, and malted barley. The dog-friendly company also allows employees to bring their dogs to work. They sell their beers locally and across the states. For tickets and more information, please visit http://www.lagunitas.com.